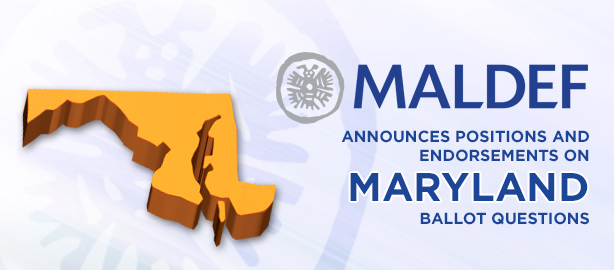 MALDEF POSITIONS ON MARYLAND BALLOT PROPOSITIONS
While generally categorized as a progressive reform procedure, too often the referendum is used by those who oppose progressive legal change to challenge positive measures adopted by a legislature. This November 6, Maryland voters face two such referendum measures challenging laws that promote inclusion and civil rights. Even though the measures were placed on the ballot by those opposed to the laws, voters must vote "FOR" the measure in order to preserve these progressive laws. Because these measures are critical to civil rights in Maryland, MALDEF recommends votes "FOR" Questions 4 and 6, as explained below. I hope that the position endorsements and brief explanations set forth below help you in deciding how to vote on these two ballot measures. But, however you decide, what is most important is that every eligible voter take the time to decide and VOTE. Thank you.



Sincerely Yours,




Thomas A. Saenz
President and General Counsel
MALDEF
---
Maryland Question 4: FOR the Referred Law
This law would allow all students, regardless of immigration status, who attended high school in Maryland for at least three years and graduated, to pay reduced tuition rates in public higher education institutions.

This law would allow Maryland to benefit from a well-qualified workforce that includes all students educated in Maryland, rather than excluding some based on immigration status, which in many cases may change due to federal reform or eligibility for adjustment under current law. In enacting this law, Maryland would join a number of other states in recognizing that immigration status does not determine which young people view a state as their permanent home and which young people can make significant contributions to the economy and society.


---
Maryland Question 6: FOR the Referred Law
This law would grant the right to civil marriage to gay and lesbian couples in Maryland.

This law implements marriage equality, while expressly reserving the rights of clergy and religious institutions to follow their own rules on religious marriage. This law promotes respect for inclusion in Maryland, and helps to eliminate one basis for irrational and harmful discrimination.


---
Founded in 1968, MALDEF is the nation's leading Latino legal civil rights organization. Often described as the "law firm of the Latino community," MALDEF promotes social change through advocacy, communications, community education, and litigation in the areas of education, employment, immigrant rights, and political access. For more information on MALDEF, please visit: www.maldef.org.