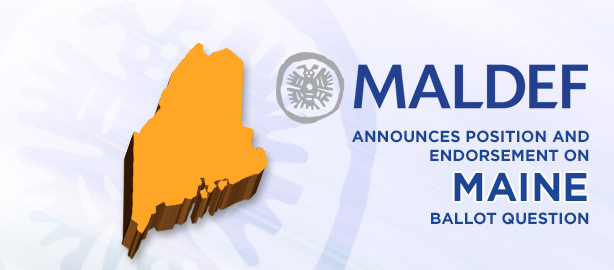 MALDEF POSITION ON MAINE BALLOT QUESTION
This November, we face a critical election, in which high levels of participation by Latino voters and their allies everywhere can send a powerful message about the importance of the Latino community and its policy views. Even where there may not be large numbers of Latino voters, we must nonetheless speak out in support of the civil rights principles that we champion. While the hard-fought presidential election has received most of the media and public attention, the importance of the 2012 General Election also lies in critical congressional and legislative races, as well as in important policy measures on the ballot in many states. Today, MALDEF releases its recommended position on one statewide ballot question in the Maine general election. MALDEF makes this recommendation because we have seen the importance of eliminating irrational and invidious discrimination whatever the basis. I hope that the position endorsement and brief explanation below help you to decide how to vote on this ballot question. But, however you decide, what is most important is that every eligible voter take the time to decide, and VOTE. Thank you.

Sincerely Yours,




Thomas A. Saenz
President and General Counsel
MALDEF
---
Maine Ballot Question 1: YES
This ballot measure would grant the right to civil marriage to gay and lesbian couples in Maine.

This law implements marriage equality, while expressly reserving the rights of clergy and religious institutions to follow their own rules on religious marriage. This law promotes respect for inclusion in Maine, and helps to eliminate one basis for irrational and harmful discrimination.


---
Founded in 1968, MALDEF is the nation's leading Latino legal civil rights organization. Often described as the "law firm of the Latino community," MALDEF promotes social change through advocacy, communications, community education, and litigation in the areas of education, employment, immigrant rights, and political access. For more information on MALDEF, please visit: www.maldef.org.