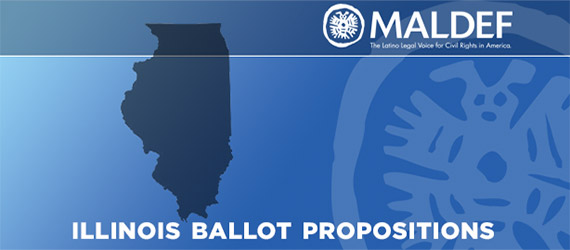 MALDEF POSITION ON ILLINOIS BALLOT PROPOSITIONS
Although midterm elections too often receive less attention than presidential elections, this November, voters nationwide will cast ballots to elect significant state and national leaders. In addition, important ballot measures will be decided by voters in a number of states. Illinois has a number of measures on the ballot. As you can read further below, MALDEF has reviewed and urges you to vote YES on one of these measures -- the Illinois Right to Vote Amendment. I hope that the position endorsement and brief explanation set forth below help you in deciding how to vote on this key ballot measure. But, however you decide, what is most important is that every eligible voter take the time to decide and VOTE on November 4. Thank you.



Sincerely Yours,




Thomas A. Saenz
President and General Counsel
MALDEF
---
Illinois Right to Vote Amendment: YES
This proposed constitutional amendment would add Section 8 to Article III of the Illinois Constitution. The amendment would add protection against discrimination in voting and voter registration to the state constitution.

This proposed amendment would add important and independent state-law protections of the right to vote. Such state-law protections are appropriate and needed as the United States Supreme Court continues to cut down on federal protections of the right to vote. Voting YES guarantees that Illinois citizens will have this extra, needed protection against laws that seek to deter and prevent voter participation.
---
Founded in 1968, MALDEF is the nation's leading Latino legal civil rights organization. Often described as the "Latino Legal Voice for Civil Rights in America" MALDEF promotes social change through advocacy, communications, community education and litigation in the areas of education, employment, immigrant rights and political access. For more information on MALDEF, please visit: www.maldef.org.
For all media inquiries, please contact Larry Gonzalez.