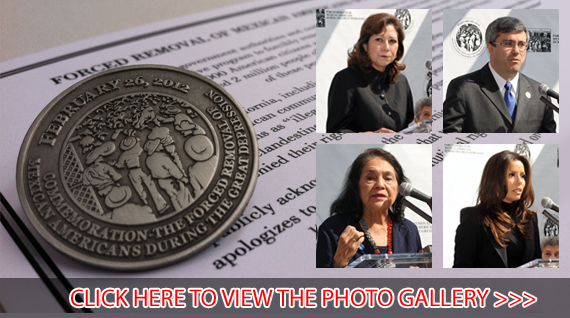 Officials and Leaders Gathered for Historic Ceremony Recognizing Forced Removal of Mexican Americans During Great Depression
Permanent Monument Honoring Victims and Survivors to be Housed at LA Plaza
LOS ANGELES, CA Today, government officials gathered alongside civil right leaders at LA Plaza de Cultura y Artes (LA Plaza) to unveil a permanent monument to acknowledge California's role in the forced removal of 2 million Mexican Americans between 1929 and 1944. Approximately 400,000 of those displaced were California citizens or residents. The commemoration falls on the 81st anniversary of the infamous La Placita raid by government officials, who seized hundreds of Mexican American community members.


U.S. Secretary of Labor Hilda Solis, who co-authored legislation in Congress, and other speakers discussed the government's role in the repatriation/expatriation drive, which included massive raids and roundups throughout the Los Angeles area and other parts of California. Other guest speakers shared their personal stories regarding the impact of the repatriation/expatriation on themselves, their families and their communities.
MALDEF and LA Plaza joined together to plan and host this historic event. MALDEF played an integral role through litigation and legislative advocacy in securing passage of SB 670 ("Apology Act for the 1930s Mexican Repatriation Program") by the California State Legislature.
"California's acknowledgement and apology help to ensure that our remembrance of this history will not wane. This remembrance has powerful lessons for today -- in the contemporary context of states and cities pursuing policies designed to terrify peaceful residents into leaving our country and a federal government breaking records for deportations through exploitation of a program that conscripts local police into biased immigration enforcement," stated Thomas A. Saenz, MALDEF President and General Counsel. Saenz spoke of the hope that we not repeat past injustices and that we avoid the future need for further apologies and memorials of mass injustice.
In conversation with Supervisor Gloria Molina (1st District), MALDEF leadership sought to house a permanent monument at LA Plaza, as the LA Plaza site and the nearby Our Lady Queen of Angels Catholic Church mark key locations for raids and roundups during the 1930s.
"Today is a significant day in Los Angeles and California history. This long-awaited commemoration on behalf of the victims and families of the 1930's 'Mexican Repatriation Campaign' has finally come to fruition," said Los Angeles County Supervisor Gloria Molina. "We are not only commemorating the State's apology, but LA Plaza de Cultura y Artes is bringing to the forefront a tragic piece of our history that was swept under the rug and cannot be found in our textbooks. LA Plaza is honored to serve as the permanent home of the 'State Apology' monument, which will serve as a reminder of a part of history that must not be repeated." Supervisor Molina represented Los Angeles County at the ceremony. She also serves as a Member of the Board of Trustees for LA Plaza.
Eva Longoria, a Board Member for both LA Plaza and MALDEF, served as moderator for the ceremony. Assemblymember Gil Cedillo (45th District) presented on behalf of the State of California. Guest speakers included California State Senator Joseph Dunn (Ret.), who authored SB 670: "Apology Act for the 1930s Mexican Repatriation Program;" and Emilia Castañeda, repatriation program survivor. During the ceremony, Castañeda gave remarks on how repatriation impacted the lives of her and her family.
Additional special participants included: Cruz Reynoso, California Supreme Court Justice (Ret.) and Civil Rights Lawyer; Dolores Huerta, Civil Rights Icon; and Esteban Torres, Chair of the Board of Trustees for LA Plaza and U.S. Congressman (CA-38 – Ret.).
Approximately 60% of those individuals removed during Repatriation were born in the United States and had American citizenship prior to their removals. The monument at LA Plaza will be permanently located near the heart of where some of the removals took place. This placement will allow all Mexican Americans, as well as tourists who frequent the area, to recall this regrettable incident in U.S. history and to better understand the impact the Repatriation programs had for the Mexican American and broader U.S. culture.
---
MALDEF (www.maldef.org)
In 2003, MALDEF represented repatriated Mexican Americans who sought reparations and an official apology from the state of California. Through the filing of a lawsuit and active engagement in public policy and legislative efforts to address the issue at the federal and state level, MALDEF helped secure the passage of former California State Senator Joe Dunn's legislation, SB 670: "Apology Act for the 1930s Mexican Repatriation Program." Governor Schwarzenegger signed SB 670 in 2005.
LA Plaza de Cultura y Artes (www.lapca.org)
LA Plaza was built to celebrate and honor the history and continued influence of Mexican and Mexican American culture, particularly within Los Angeles and the Southern California region. With the unveiling of a permanent plaque to be housed at LA Plaza, the sorrowful story of those individuals and families who lives were upended by California's repatriation program will finally be told. LA Plaza is proud to help share stories of the Mexican and Mexican-American experience and cultivate an appreciation for the enduring and evolving influence of Mexican and Mexican-American culture.