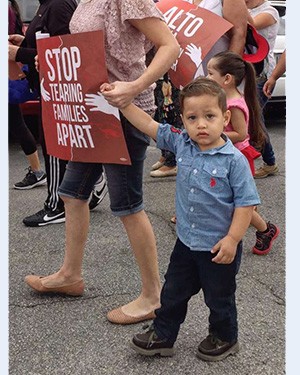 TEXAS SUED MALDEF FOR QUESTIONING THE CONSTITUTIONALITY OF SB 4. YESTERDAY WE SUED TEXAS ON BEHALF OF FOUR CLIENTS WHO WOULD FACE REAL INJURIES FROM THE UNCONSTITUTIONAL ANTI-IMMIGRANT SB 4.
WILL YOU SUPPORT US TO STAND UP AGAINST SB4 AND DEFEND LATINO CIVIL RIGHTS?
MALDEF HAS SUED TEXAS MANY TIMES BEFORE AND WON. WE WILL DEFEAT THIS ATTACK ON THE RIGHTS OF THE IMMIGRANT COMMUNITY IN TEXAS.
SHOW YOUR SUPPORT AND STAND WITH US AS WE TELL GOVERNOR ABBOTT, "DON'T MESS WITH MALDEF!"

Call to donate by telephone: (213) 629-2512 Ext. 125
Mail check here: MALDEF 634 S. Spring Street, 11th Floor Los Angeles, CA 90014